"So let's make the most of this beautiful day, since we're together, we might as well say -- " I pause for effect as we cruise past the Seattle Space Needle.
"Would you be mine?
Could you be mine?
Won't you be my neighbor?"
Baby Ty giggled at my crooning rendition of the Mr. Roger's theme song. Four-year-old Patrick shouted for an encore with a fist bump.
Seven-year-old Amelia peered out the rear window as the Seattle Monorail shuttled past on tracks above our Routan.
"When I was a kid I'd watch
Mr. Rogers Neighborhood
." I stop, trying out how to explain Mr. Rogers to kids who weren't alive during his thoughtful reign on PBS.
"Mr. Rogers, would sing as he slipped into a zippered cardigan sweater and sneakers."
"What does Mr. Rogers have to do with Top Pot Doughnuts?" Eleven-year-old Sophie asks. She has a point.
My four kids and I were on our way to Top Pot Doughnuts to meet Mark Klebeck, one of the owners, who'd agreed to show our family just how they made their famous hand-forged doughnuts.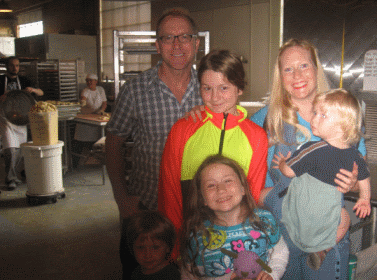 "Well, Mr. Rogers would take us on field trips," I said, recalling the "virtual field trips" to factories where we learned how towels and crayons were made and even watched as robots were assembled. "You knew him?" Sophie asked.
"It felt like I did. Through the television screen we discovered how things worked and that we were special." I said.
Mr. Rogers was my first exposure to the mechanical world and that you didn't have to be a brainiac to appreciate the ingenuity behind the creation.