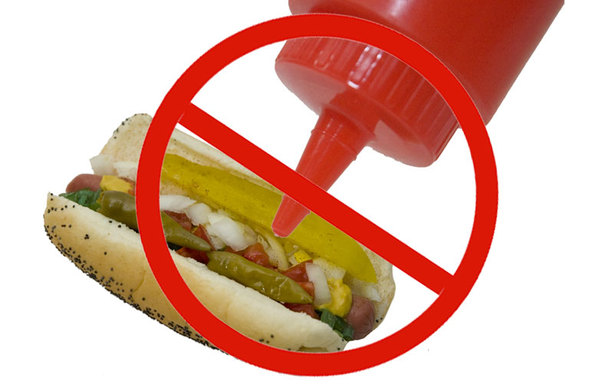 Earlier this week Oscar Mayer and Ball Park found themselves before a judge in Chicago accusing each other of false advertising. One battle in the wiener wars is over Oscar Meyer's claim that their frank is the best.
Apparently ChefsBest in San Francisco tasted hot dog samples and they crowned Oscar Mayer #1 (interestingly, the results are no longer on their website). U.S. Magistrate Judge Morton Denlow grinned and asked "And how would ten chefs in San Francisco know what the best hot dog is when they have never been to Chicago or tasted a Chicago hot dog?" When the Ball Park counsel complained that the chefs were not given the opportunity to squirt ketchup on their dogs, Denlow interrupted, saying "That's an area of great debate."
Not in Chicago.
Chicagoans, renowned for our worship of the all beef frankfurter (full disclosure, please noet the use of the word "our"), understand that ketchup is popular with children because they like sweet stuff, so they don't argue with kids who order it on their franks. But if you are over 18, never, ever, no how, no way, allow ketchup anywhere near a proper hot dog in Chicago. Fogeddaboudit.
Apparently no less an authority than National Hot Dog & Sausage Council, the official trade association based in Washington, DC, agrees. It has codified the rule in their paper on "Hot Dog Etiquette and everyday guidance for eating America's sacred food." There it is in black and white: "Don't use ketchup on your hot dog after the age of 18." In their video they add "We all have to grow up sometime":