"So let's make the most of this beautiful day, since we're together, we might as well say -- " I pause for effect as we cruise past the Seattle Space Needle.
"Would you be mine?
Could you be mine?
Won't you be my neighbor?"
Baby Ty giggled at my crooning rendition of the Mr. Roger's theme song. Four-year-old Patrick shouted for an encore with a fist bump.
Seven-year-old Amelia peered out the rear window as the Seattle Monorail shuttled past on tracks above our Routan.
"When I was a kid I'd watch
Mr. Rogers Neighborhood
." I stop, trying out how to explain Mr. Rogers to kids who weren't alive during his thoughtful reign on PBS.
"Mr. Rogers, would sing as he slipped into a zippered cardigan sweater and sneakers."
"What does Mr. Rogers have to do with Top Pot Doughnuts?" Eleven-year-old Sophie asks. She has a point.
My four kids and I were on our way to Top Pot Doughnuts to meet Mark Klebeck, one of the owners, who'd agreed to show our family just how they made their famous hand-forged doughnuts.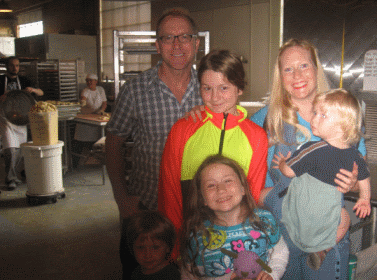 "Well, Mr. Rogers would take us on field trips," I said, recalling the "virtual field trips" to factories where we learned how towels and crayons were made and even watched as robots were assembled. "You knew him?" Sophie asked.
"It felt like I did. Through the television screen we discovered how things worked and that we were special." I said.
Mr. Rogers was my first exposure to the mechanical world and that you didn't have to be a brainiac to appreciate the ingenuity behind the creation.
Mr. Rogers planted a curiosity seed and I still find myself drawn to learning about how stuff works.
Today, I want my kids to have a similar creative experience, but not just through a television screen.
Sophie handed Mark the homemade blackberry jam we'd made that morning. He smiled appreciatively the way most people do when given an unexpected treat... like a doughnut.
I knew the old-fashioned ribbed Mason jar would fit right in to the vintage eclectic feel that resonated at each of the Top Pot locations. A vibe that Mark and his co-owner and brother Mike, created at each of their neighborhood locations.
Top Pot doughnuts has achieved success from a secret 1920s doughnut recipe and a gorgeous vintage environment. The former contractor brothers have picker hearts and a love of retro-mod designers like Charles and Ray Eames.
The kids and I followed Mark single-file past a line of customers at the crowded flagship café. We curved around floor-to-ceiling custom bookshelves, behind the specialty doughnut case and hissing espresso machine.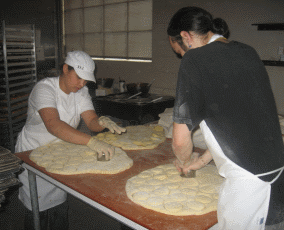 "We make thousands of doughnuts here everyday," Mark said, waving toward three or four baker's racks filled with doughnuts.
I expected Charlie and the Chocolate Factory. With visions of acrobatic maple bars that uniformly slid down metal conveyer belts under rhythmic sheets of taupe-colored icing.
I'd read about these infamous glistening sirens that had bewitched Seahawk rookie Golden Tate into nabbing a few bars before the store opened. Or the tale of Howard Schultz after a one week Top Pot binge and three dozen doughnuts that led to a multi-million dollar partnership... Even Obama had been wooed into sharing half a glazed-old fashioned with Senator Patty Murray.
"We make doughnuts the old fashioned way," Mark began as we all stood on the edge of the kitchen. My head swiveled around searching for all the cogs, steam, whistles, mechanical arms, pulleys and the complicated network of conveyer belts I'd imagined.
I wasn't expecting to see two human beings kneading dough by hand on floured surfaces, then rolling out and cutting the dough into circles. Morning sun glinted through the windows of the renovated 1950's building. Hobart mixers were going full throttle on mounds of puffy dough.
A simple operation -- devilishly simple.
"We use pure ingredients. Everything is done by hand. There's a lot of care and attention into making each and every doughnut." Mark explained.
I'm so used to catchy slogans I didn't really expect Top Pot with all their success to be hand forged by artisans in small batches.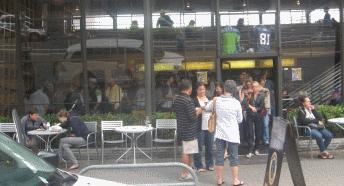 "Can we cut some of the doughnuts?" One of the kids whispered behind me. The kids desire to get "doughy" was palatable.
"I can't even take my own kids back there." Mark said.
"And I get lots of requests from schools to take a tour. But we've got strict L&I rules. And I can't do it... I can't." He repeated but his square shaped glasses reflected our mutual disappointment.
"Who wants some doughnuts?" Mark asked and I was thankful for the distraction.
If I had been disappointed about not being able to help make doughnuts that didn't last long as the kids and I settled at a table and Mark strolled up with a platter of sprinkled cake doughnuts, jellies, apple fritters and my favorite the maple old-fashioned.
The maple old-fashioned is a perfectly crunchified dough that sits majestically glazed like the snow peaked Mt. Rainier with sumptuous frosting recently tapped from a Vermont maple.
Pair it with a solid cup of joe and I'm telling you the kids and I were inspired to go home and make doughnuts!
Top Pot Doughnuts is coming out with a new cookbook,
Top Pot Hand-Forged Doughnuts: Secrets and Recipes for the Home Baker
.
I felt a kinship with the vision of Top Pot doughnuts -- "blending the old with the new" like reinventing Mr. Rogers "virtual field trips" for my own kids. As in the words of Mr. Rogers...
It's such a good feeling,
A very good feeling,
The feeling you know that we're friends.
And I'll be back
When the day is new
And I'll have more ideas for you.
And you'll have things you'll want to talk about.
I will too.